Archives for June 2012
Posted June 26, 2012 at 10:59 PM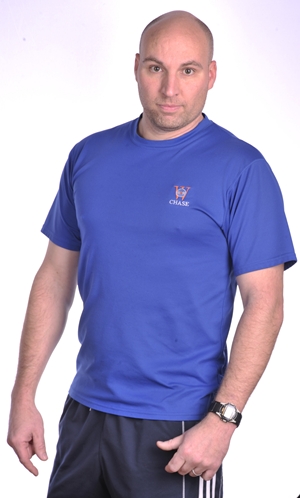 Chase Kaufman, CSCS will be our guest speaker at the September meeting of the BRMC.
EXPERIENCE: 11 years
SPECIALTIES: Youth conditioning, Sports conditioning, pre/post rehab, weight loss for adults.
PERSONAL MOTIVATION: I enjoy seeing people reach their health and fitness goals. I personally enjoy pushing people to limits that they normally wouldn't push themselves to. Overall this will help them with more self confidence and help them believe they can overcome anything. I also want to make sure that I practice what I preach because I want to make sure I am around for my family in the future.
EXERCISE PHILOSOPHY: I am a big believer in spending your time wisely. I believe that you should get a good intense workout in a short time frame. As time is something that we can't ever get back. So I got by the old saying more bang for your buck. I believe intensity is key with workouts also. I like to give good intense workouts that resemble boot camps within a 30 minute time frame.
---
Posted June 6, 2012 at 8:36 AM
Following the success of our great picnic during May, we are heading to our local Bonefish Grill on Hull Street Road.
ON MONDAY, JUNE 25, '12 for our next ROMEO -- Retired Outstanding Men (with their ladies & guests) Eating Out
We meet in the bar/ lounge at 5:30 p.m. for our Social Hour, enjoying Happy Hour prices:
House Wines @ $3.
Draft Beer @ $1 off
and most Liquors @ 1/2 price
You can either pay as you order or have the bar bill added, using your name tag, to your dinner check.
At 6:30, we head into a reserved section of the dining room; seating is random. We will order from either the regular menu -- which is too lengthy to detail here -- or a list of the Special Selections for that week.
Here is a brief summary of the selections offered, subject to their fresh availability:
Gulf Grouper
Chilean Sea Sea Bass
Norwegian Salmon
Longfin Tilapia
Ahi Tuna
Snake River Rainbow Trout
Cold Water Lobster Tails
Lily's Chicken
Fontina Chop
Chicken Marsala
Filet Mignon
Scampi Topped with Sirloin Steak
and much more, Grilled, Sauteed or Baked.
This busy and very popular restaurant must limit us to forty (40) guest spaces. We will take reservations on a first come, first served basis. Email your request to leseminare@verizon.net or call Lou at 744-4517, no later than Friday, June 22.
If you later find that you must cancel, PLEASE let us know so that we may accommodate those on a Waiting List.
As always, our individual checks will include an 18% pre-tax gratuity, and may be paid by cash or credit card, with cash preferred for speedier check-out.