Archives for November 2013
Posted November 19, 2013 at 2:42 PM
It is that time of year again!! Ring a bell of joy!
You, too, can be a red kettle-keeper, a bell-ringer, a bright smile-giver, this Christmas season, as many of our BRMC members did last year. Join the tradition of giving and discover what a joy it is to know that you're making a difference in your community. You can serve as an individual or as a family. Grandchildren have enjoyed participating.
The club will help with this program again this year on two days, with a station in front of the Kroger Supermarket on Hull Street Road at Brad McNeer Blvd. The dates are: Thursday, December 19 and Friday, December 20, with shifts of an hour or two (duration to be determined) between 9:00 a.m. and 6:00 p.m.
If you want to be part of this truly worthwhile program, save those dates to sign up for the shift or two of your choice during our December 5 meeting.
Questions? Don Reich, our Charity Chair, will have the answer. 639-4341.
---
Posted November 17, 2013 at 6:58 PM
The Brandermill Region Men's Club is honored to welcome James J. L.Stegmaier, Chesterfield County Supervisor, as the speaker at its first meeting of 2014. His talk will cover a lot of what we as Chesterfield residents need to know.
---
Posted November 14, 2013 at 10:05 AM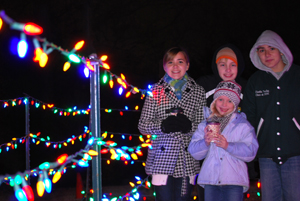 Celebrate all that we love about the natural world at the Lewis Ginter Botanical Garden's Dominion GardenFest of Lights 2013: A Natural Love Affair.
This year's Dominion GardenFest of Lights explores the beauty and bounty of our natural world where lightning bugs glow in the night and the seasons magically change. Walk through a Swallowtail caterpillar tunnel that reveals a beautiful butterfly nearby.
Coneflower, tulip, and foxglove forms help light the way as you stroll from garden to garden. Visit miniature terrarium landscapes in the Library, also home to a 14-foot-tall tree filled with flowers and bustling pollinators and dragonflies. In the Conservatory, a 20-foot-tall golden tree, dripping with honey-like glass, celebrates the birds, bees, and flora of all seasons.
Butterflies flutter over a magical train landscape, where woodland creatures, inspired by the beloved children's book The Wind in the Willows, go about their day cleaning house, reading, fishing, or just taking a nap. The Conservatory's West Wing also has a story to tell. See the cottage transformed into a cabin full of a naturalist's beloved collections, inspired by the book Mossy by Jan Brett. Hear the Gardenkeeper read Mossy Monday nights by the fire in the Library Reading Room.
Enjoy a wonderful dinner from 7:30 to 8:45 with your selections from this special menu ---
Grilled Chicken Breast with Mustard Herb sauce
or Herb Crusted Salmon
Spinach Risotto Phyllo Casserole
plus...
Caesar Salad
Wild Rice Pilaf
Green Beans with Feta & Pinenuts
White and Wheat Rolls
Cheesecake with Toppings
Iced Tea & Coffee
All this for just $34.00 per person, including tax and the $11.00 Gardenfest of Lights admission ticket.
The Details
Tuesday, December 10. This is a car-pool event to minimize the cost and provide flexibility to tour the Gardenfest of Lights on your own at a comfortable pace before being seated in the reserved dining section at 7:30.
We will meet at 5:45 in the Ginter Lobby.
To participate in the dinner, paid reservations must be received before December 2nd. Cancellations before December 7 will be accepted.
------------------- clip, complete & mail to ------------------
Bal Dighe 6112 Duck Cove Road Midlothian, VA 23112
Enclosed is my check, payable to BRMC, for ____ at $34 each
Name: ____________________________ Phone _________________
Guest ___________________________
Guest ___________________________
Guest ___________________________