Archives for March 2012
Posted March 6, 2012 at 7:19 PM
We have a great show lined up for the Cavalcade of Music on Sunday, April 29. With the early notification that we sent out, some may be tempted to put it aside for later response, and then forget. Why not do it now, and assure your support for this, our only charity fund-raiser of each year. Better still -- sell some tickets to your friends and/or extended family. They will be glad you thought of them.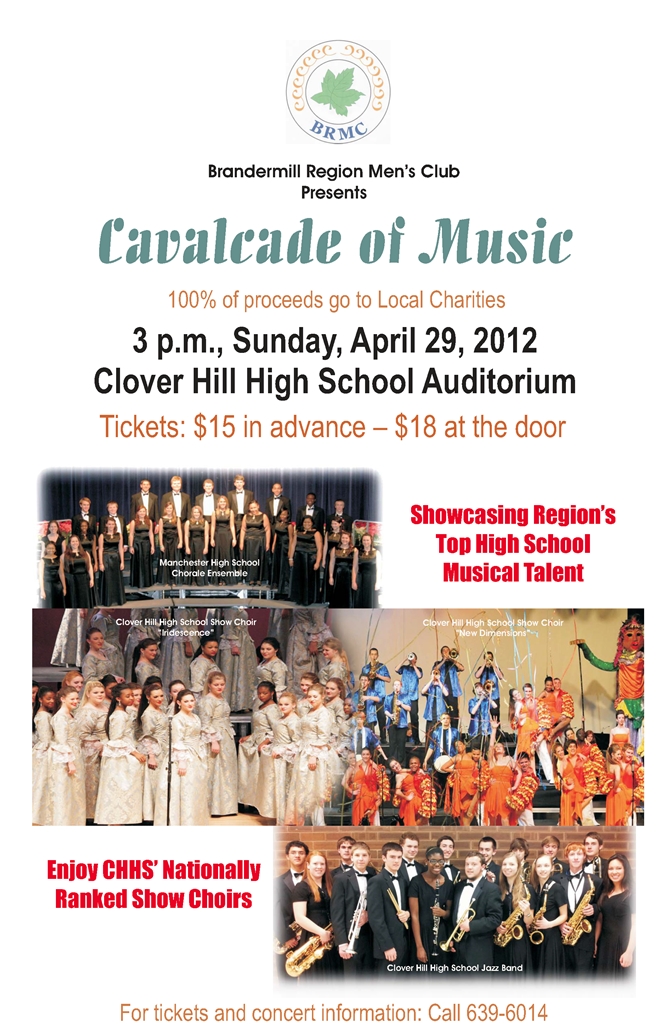 ---
Posted March 16, 2012 at 10:29 AM
Monica Hughes. the Executive Director of the
Chesterfield Lifelong Learning Institute (LLI)
, will be the speaker for the May meeting of BRMC.
LLI, is now in its ninth year of meeting that thirst for knowledge and the challenges of seniors through daytime college level courses, lectures, events and other activities. LLI is about intellectual curiosity and the joy of learning for learning's sake: all goals of seniors not ready for an inactive and stoic retirement and who are looking forward to a future with challenges and opportunities for personal growth.
---
Posted March 6, 2012 at 7:15 PM
Your tireless Scout Team has been busy, and has made a unanimous "thumbs-up!! selection that many know so well -- Crab Louie's Seafood Tavern -- in the 250 year old historic landmark at 1352 Sycamore Square in Midlothian.
The date is Monday, March 19, 2012. We start at 6:00 p.m. with the traditional Social Hour with the special price for Cocktails at $4, and Wine at $3 per glass. These prices continue through dinner, and will be included in your final tab.
This fixed price dinner is all inclusive at $26.95 per person and starts at 7:00 p.m.
We begin with Crab Louie's famous homemade relishes and sweet breads, and continue with your individual selections, made at the table from the following special menu.
---
Salad:
Caesar Salad: Hearts of Romaine, Parmesan cheese & croutons, or Mixed Greens with your choice of dressing.
Appetizer Selection:
Clam Chowder Soup
A northeastern favorite perfected in the old South, Sea clams, bacon, herbs & spices in a cream based chowder.
Entree Selection:
Fresh Fish Selections
Chef's choice from our current fresh catch
Fried Shrimp
Gulf shrimp lightly breaded and golden fried
Seafood Au Gratin
Fresh Virginia Crabmeat, Sea Scallops and Gulf Shrimp in a Classic Sherry Cream Sauce, topped with Harvarti Cheese
Southwest Chicken
Boneless Chicken Spice Rubbed and Grilled, Southwest Remoulade
Filet Mignon (at an additional $2 per individual order.)
Eight ounce cut, grilled to your perfection
All entrees include a Baked Potato and Chef's Choice of vegetables.
Dessert Selection:
Chocolate Praline Sunday, or Vanilla Bean Ice Cream or Raspberry Sorbet.
Non-Alcohol beverages and coffee are also served at no additional charge.
---
The Details: Space is limited to the first 40 reservations received by email to Lou at leseminare@verizon.net or by phone - 744-4517, no later than Thursday, March 15.
Any cancellations must be made before that date.
Individual tabs will include cocktail hour and dinner alcohol charges (and the $2 Filet Mignon addition if selected) plus Gratuity of 18% and county tax. Payment will be accepted by credit card or cash.
A Special feature for those who prefer not to drive after dark: Include that when making your reservations, and we will try to match you up with those who volunteer to share their ride.
Volunteers Drivers Needed: Please include your availability when making your reservations.
See you there!!
---
Posted March 3, 2012 at 10:54 AM
The National Museum of the Marine Corps is a lasting tribute to U.S.Marines -- past, present, and future. Situated on a 135 acre-site adjacent to Marine Corps Base Quantico, and under the command of Marine Corps University, the Museum's soaring design evokes the image of the flag-raisers of Iwo Jima and beckons visitors to this 120,000 square-foot structure. World class interactive exhibits using the most innovative technology surround visitors with irreplaceable artifacts and immerse them in the sights and sounds of Marines in action.
In June 2010, the Museum opened its newest exhibits that explores the Marine Corps' early years, from the first recruiting efforts in 1775 through World War I. We will pass through German lines in France at Belleau Woods, where Marines earned the nickname "Teufelhunden," better known as "Devil Dog." Visitors will see, hear, feel and smell the battle. Young Marines from Quantico star in a film that recreates the charge through the wheat field, but we see it from the perspective of the enemy. The National Museum of the Marine Corps is an American history museum. But it's American history seen through the eyes of individual Marines across nearly 235 years.
Our tour will include a break for lunch, which will on your own, in your choice of two venues, both located on the second deck:
One is the Mess Hall Cafeteria Style Restaurant that honors Marine Mess operations. The menu includes a varied and tempting selection of grab and go items, homemade soups and chili, freshly baked pizza and a daily hot sandwich, plus a selection of beverages and snacks.
The second choice is the Tun Tavern. Legend has it that The Marine Corps was founded at the original Tun Tavern in Philadelphia. The decor here is in the style of a colonial tavern. Menu items are designed to be reminiscent of the time of the founders. The Tavern offers a full lunch menu and alcoholic beverage service.
The BRMC Tour Details:
The date is Tuesday, April 17, 2012
Round trip Motorcoach transport, leaving Brandermill's Market Square at 9:00 a.m., returning at 5:00 p.m.
Refreshments on the Motorcoach.
Transportation cost is $20 per person, lunch cost at the museum is on your own.
You are encouraged to include your wife and guests; all will be welcomed
Pre-paid reservations required by check to BRMC, and must be received before Thursday, March 29.
Send to: Bal Dighe 6112 Duck Cove Road Midlothian, VA 23112
Questions? Call Bal @ 639-6960