Archives for September 2011
Posted September 29, 2011 at 1:44 PM
THE BRANDERMILL REGION MEN'S CLUB will hold its next meeting on Thursday, October 6 in the Brandermill Church.
Join us for refreshments and fellowship at 9:15 a.m.
We will start te meeting at 10:00 a.m.. sharp
1. Our guest speaker will be Mark Greenough, Director of Living History Associates, Ltd., and historian and supervisor of visitor services at the Virginia State Capitol. As we continue the 2001 to 2015 observation of the American Civil War sesquicenntennial, he will discuss the events that led to Virginia's decision on secession.
The BRMC article published in the recent issue of the Village Mill is reproduced below.
As with all BRMC programs, our wives and guests are invited and encouraged to attend and participate.
2. Have you made your reservations for the October 13 (rain-date October 20) fully catered Fall Picnic?? A reminder email with the details will be sent following this meeting notice message.
3. Save the date, Friday, December 9th, for our trip to Washington for A Holiday Festival Concert with the U.S.Army Band. It is a great show. Details will announced in mid-October.
4. If you have not already done so, bring your checkbook to renew your membership through December 2012. This offer is also good for those of your friends who wish to join the club. Annual dues is still only $25 (for BCC golfing members, add $30).
5. A great way to keep up on club activities and events between meetings is to regularly check out the wonderful web site that Bill Pond keeps up to date. Simply go to: www.BRMConline.org
6. We should also note that:
The BCA is encouraging Brandermill residents to provide an email address to participate in its Email Alert program. This service provides important news, weather-related, and emergency notification to residents. Types of notifications include road closures, storm related information, school closures, community-wide meeting notices etc. Residents can call the BCA office at 804-744-1035 or send an email to the BCA at bca@brandermill.com with the information.
September '11 issue -- The Village Mill
Mark Greenough brings American Civil War history to life.
Virginia, among many other states, continues during 2011-2015 the American Civil War Sesquicentennial Commemoration.
To paraphrase what I wrote in this space for the May 2010 issue, introducing Cheryl Jackson, Executive Director of Virginia's Sesquicentennial Commemorative program, the American Civil War was the most profoundly formative event resulting in the nation we know today.
At the cost of more than 620,000 lives, in many cases pitting brother against brother, father against son, that number surpasses the combined total of all the American casualties suffered in all the foreign conflicts in which our nation has been involved, including the 36,940 American combat deaths suffered during the Korean conflict. To put it another way, it took our nation 180 years of participation in foreign conflicts to match the loss of American lives suffered in just 48 months of civil war.
To put that four year devastation in contemporary perspective, if this ratio of death to the 1860 total population of the country (31,443,321) were to be applied to our current population, the number of American lives lost would be more than six million.
The Civil War was profoundly formative for the nation in that it abolished slavery and set the stage to once and forever put to rest the divisive issue of secession. We became a nation indivisible, and sadly with a further painful nearly century-long evolutionary period, one that most can agree provided liberty and justice for all.
But why and how did such a young nation, one founded on the principles of freedom from colonial bondage and oppressions, come to turn on itself to such devastation and effect? To answer that, it may be helpful to examine the answers to further questions. For example --
Why was George Washington a hero to both the North and the South in 1861?
What state sponsored the Washington Peace Conference in February 1861?
Was Virginia a part of the Confederacy before the firing on Fort Sumter?
What was the Virginia Constitutional Convention of 1861 and what did it do?
Why did Virginia originally vote against secession and later for secession in April 1861?
What military forces did Robert E. Lee accept command of on April 23, 1861?
Where did the Confederate Congress meet in the summer and winter of 1861?
Why did Virginia become a state smaller in 1863 than it had been in 1861?
We will have an opportunity to learn the answers to these questions, and pose questions of our own, by attending the meeting of the Brandermill Region Men's Club at 10:00 a.m. on Thursday, October 6, in the Brandermill Church.
Mark Greenough, the special guest speaker for this meeting, is an ardent advocate for bringing history to life in the modern world.
Mark is a co-founder and director of Living History Associates, Ltd., established 1986 in Richmond. Since 2002 Mark has worked for the Commonwealth of Virginia as Historian and Supervisor of visitor services at the State Capitol, a national historic landmark and meeting place for America's oldest legislative assembly. For over thirty years Mark has worked in the field of public history as an author, exhibit curator, character interpreter, and dynamic speaker. He was a first-person living history interpreter for the National Park Service from 1980 to 1985 and on the library staff of the Virginia Historical Society from 1986 to 1987. Mark has worked as an historical and technical advisor for numerous television productions involving historical subject matter, including "Founding Fathers" and "Founding Brothers."
Earning a Baccalaureate in History (1984) from the University of Santa Clara, Mark has done additional graduate coursework in historical archeology, American material culture, and historiography at the College of William and Mary. As a serious scholar on John Marshall, Mark has professionally portrayed the Great Chief Justice for more than ten years to a wide audience, including two sitting members of the U. S. Supreme Court.
BRMC MEETINGS
The Brandermill Region Men's Club meetings are held at 10:00 a.m. at the Brandermill Church on the first Thursday of each month, September through June. The meetings are preceded by refreshments at 9:15 a.m.
There is a special advantage to joining - or renewing membership - during the period September through December.
Although the club year runs on a January through December basis, joining or renewing during those fall months will carry membership through December of the following year, 2012, thus providing up to 16 months of membership for new members at the normal annual dues of just $25.
As the name indicates, membership in the club is open to men age 50 or "better," who are residents of the region. Retired status is not required. The club provides a wide range of activities and social events for members, their spouses, and guests. Those interested in learning more about the club and its many offerings are encouraged to visit the website at BRMConline.org, or simply attend a meeting as a guest of the club. All are welcome.
---
Posted September 15, 2011 at 2:36 PM
Save the Date --- 4:00 p.m., Thursday, October 13, (Rain Date: Thursday, October 20) at the Sunday Park Pavilion.
To those who have already made reservations, thank you for the timely response -- and note the change in the start time.
For those who have not, note the October 5 deadline for paid reservations. Thus, this friendly reminder....
EARLY RESPONSE HAS BEEN GOOD, BUT GIVEN THE EARLY OFFERING, WE ARE SENDING THIS REMINDER --
HAVE YOU SAVED THE DATE?? --- THURSDAY, OCTOBER 13
AT 4:00 p.m., IS THE TIME FOR OUR
SOCIAL HOUR AT THE SUNDAY PARK PAVILION.
(RAIN DATE: THURSDAY, OCTOBER 20)
FOLLOWED BY OUR TRADITIONAL FALL PICNIC, WHICH WILL BE FULLY CATERED. NO NEED TO BRING ANYTHING. EVERYTHING WILL BE FURNISHED. JUST COME AND ENJOY.
THE MENU --
BROCK'S FAMOUS BAR-B-QUE
HOT DOGS
POTATO SALAD
BAKED BEANS
COLE SLAW
WITH ALL THE TRIMMINGS
AND INCLUDING DESSERT:
A SELECTION OF FRUIT COBBLERS
WINE
BEER
SOFT DRINKS & WATER
ALL THIS AND FELLOWSHIP WITH FRIENDS AND GUESTS FOR THE ALL INCLUSIVE PRICE OF JUST
$15 PER PERSON. YOUR GUESTS WILL BE WELCOMED.
PAID RESERVATIONS BEFORE OCTOBER 5 ARE REQUIRED FOR THIS CATERED EVENT.
QUESTIONS? CALL BILL LaLONDE 744-8227
Provide the following info on a separate paper or
----- CLIP, COMPLETE & MAIL WITH CHECK TO ----
Bill LaLonde, 14207 Chimney House Road, Midlothian, VA 23112
Count us in: My check for ____ people at $15 each
Payable to BRMC for $ ____ total is enclosed.
Name: _________________ Phone _________
Name: ________________________________
Name: ________________________________
Name: ________________________________
---
Posted September 15, 2011 at 1:40 PM
Veteran's Day remembrances: A view through the periscopeThe BRMC program for the November 3 meeting at the Brandermill Church will recognize the United States Navy's Submarine Service. Fred Carter, Commander, USN (Retired),a member and two term past President of the BRMC, will be the featured speaker Fred's presentation is entitled "A View through the Periscope." He will focus on nuclear submarine development during the cold war, highlight life aboard these modern warships, and tell a few stories from his career as a "bubblehead."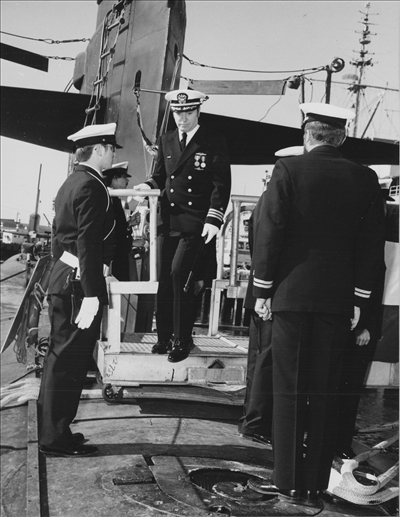 Commander Fred Carter arrives aboard USS Haddo (SSN 604)
just prior to assuming command of the fast attack nuclear submarine."

---
Posted September 15, 2011 at 12:51 PM
A suggestion to all BRMC members who may be looking for something meaningful and fulfilling to do in your retirement….
The Chesterfield school system needs volunteers for both mentoring and tutoring within the school. Several of our members did this during the last school year and the schools would like program again this school year. The schools can usually fit your schedule for volunteer activities.
We have also been contacted by Boys-to-Men; a program that mentors young boys 12-18. Boys-to Men has initiated a program with the Tomahawk Middle school and has asked our members to assist by providing mentors. Mentoring normally takes place on Wednesday mornings.
You can contact Don Reich (894-639-4341 or 703-216-7758) to sign up for these programs or for more information.
---
Posted September 1, 2011 at 4:08 PM
The first meeting of the fall season for The Brandermill Region Men's Club will be held after Labor Day on Thursday, September 8th, at the Brandermill Church.
Our guest speaker will be Jeff Baldwin, the Director of Public Relations at the Salvation Army of Central Virginia.
---
Posted September 1, 2011 at 1:26 PM
Just a heads up for everyone regarding the latest in Visa fraud. Royal Bank received this communication about the newest scam. This is happening in the Midwest right now and moving.
This one is pretty slick since they provide YOU with all the information, except the one piece they want.
Note, the callers do not ask for your card number; they already have it.
This information is worth reading. By understanding how the VISA & MasterCard telephone Credit Card Scam works, you'll be better prepared to protect yourself. One of our employees was called on Wednesday from 'VISA', and I was called on Thursday from 'MasterCard'.
The scam works like this:
Person calling says - 'This is (name), and I'm calling from the Security and Fraud Department at VISA. My Badge number is 12460, Your card has been flagged for an unusual purchase pattern, and I'm calling to verify.. This would be on your VISA card which was issued by (name of bank). Did you purchase an Anti-Telemarketing Device for $497.99 from a marketing company based in Arizona ?' When you say 'No', the caller continues with, 'Then we will be issuing a credit to your account. This is a company we have been watching and the charges range from $297 to $497, just under the $500 purchase pattern that flags most cards.. Before your next statement, the credit will be sent to (gives you your address), is that correct?' You say 'yes'.
The caller continues - 'I will be starting a Fraud Investigation. If you have any questions, you should call the 1- 800 number listed on the back of your card (1-800-VISA) and ask for Security. You will need to refer to this Control Number. The caller then gives you a 6 digit number. 'Do you need me to read it again?'
Here's the IMPORTANT part on how the scam works - The caller then says, 'I need to verify you are in possession of your card'. He'll ask you to 'turn your card over and look for some numbers'. There are 7 numbers; the first 4 are part of your card number, the last 3 are the Security Numbers that verify you are the possessor of the card. These are the numbers you sometimes use to make Internet purchases to prove you have the card. The caller will ask you to read the last 3 numbers to him. After you tell the caller the 3 numbers, he'll say, 'That is correct, I just needed to verify that the card has not been lost or stolen, and that you still have your card Do you have any other questions?'
After you say no, the caller then thanks you and states, 'Don't hesitate to call back if you do', and hangs up. You actually say very little, and they never ask for or tell you the card number. But after we were called on Wednesday, we called back. Within 20 minutes to ask a question. Are we were glad we did! The REAL VISA Security Department told us it was a scam and in the last 15 minutes a new purchase of $497.99 was charged to our card. We made a real fraud report and closed the VISA account. VISA is reissuing us a new number.
What the scammers want is the 3-digit PIN number on the back of the card. Don't give it to them. Instead, tell them you'll call VISA or Master Card directly for verification of their conversation..
The real VISA told us that they will never ask for anything on the card as they already know the information since they issued the card! If you give the scammers your 3 Digit PIN Number, you think you're receiving a credit; however, by the time you get your statement you'll see charges for purchases you didn't make, and by then it's almost too late and/or more difficult to actually file a fraud report.
What makes this more remarkable is that on Thursday, I got a call from a 'Jason Richardson of MasterCard' with a word-for-word repeat of the VISA Scam. This time I didn't let him finish. I hung up! We filed a police report, as instructed by VISA. The police said they are taking several of these reports daily! They also urged us to tell everybody we know that this scam is happening. I dealt with a similar situation this morning, with the caller telling me that $3,097 had been charged to my account for plane tickets to Spain , and so on through the above routine..
It appears that this Is a very active scam, and evidently quite successful.