Archives for April 2011
Posted April 24, 2011 at 1:17 AM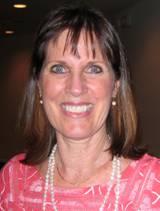 Katherine V. Bettin, Ph.D, a Licensed Clinical Psychologist, and Certified Sex Therapist, (also a Brandermill resident) will be the special guest speaker during the May 5th meeting of the Brandermill Region (formally "Retired") Men's Club (BRMC) at the Brandermill Church.
Dr. Bettin has worked since 1996 in the mental health field, including Crisis Counselor for Community Mental Health in Atlanta, Stress Management Specialist for Georgia State University in Atlanta (GSU), and Therapist and Assistant Clinical Professor for GSU, involving counseling couples, groups, and individuals and taught interpersonal communication skills to master's level students and biofeedback and stress management skills to doctoral students.
---
Posted April 20, 2011 at 12:32 AM
** By Special Arrangement **

Back from the
Finale National Show Choir Championships
In New York City

Clover Hill High School's
Nationally Ranked Show Choirs
NEW DIMENSIONS -- IRIDESCENCE
The Show Band
And Soloist Brittany Boyles
Will Perform for Chesterfield County Charities.

The show will also include a guest appearance by
Nashville country and folk recording Artists
Brinn Black and Michael Sprinkle

Sunday, May 15, 3 PM
Clover Hill High School Auditorium
Advance Sale Tickets are $15 per person
Sales at the Door will be $17.50

Reserved advance sale tickets will be obtained at
the Auditorium Box Office before the show.
To order call Don Blom at 804-739-8401

This Cavalcade of Music is sponsored by:
Brandermill Region Men's Club
All proceeds are donated to
Chesterfield County charities.

---
Posted April 20, 2011 at 12:11 AM
The Brandermill Region Men's Club Annual Spring Picnic is set for:
4:00 pm on Thursday, May 19, in the Sunday Park Picnic Grove.(Rain date -- Thursday, May 26)
The Club will be serving our famous charcoal broiled Hamburgers & Hot Dogs, with Beer, Red or White Wine, soft drinks & water.
Culinary treats will be prepared by our highly talented wives, who are asked to bring a covered dish to share.
Those whose last name begin with A thru O, please bring a Salad, Side-dish or Appetizer.
Those whose last name begins with P thru Z, please bring a Dessert.
As a special feature, invite a potential new member and his wife (or significant other) and they will be welcomed (at no cost) as guests of the club.
The cost for this popular event is still $7.50 per person.
To assure ample main course supply, reservation must be received no later than Saturday, May 14.
------ Clip, Complete & mail to: -------
William LaLonde,
14207 Chimney House Road,
Midlothian VA, 23112
Bill, Count on us to attend this annual event.
Name: ________________________ Phone: _________
Name: ______________________________________
Enclosed is my check, payable to BRMC, for: $ _____
My potential new member guests of the club are:
First name: ________ & ________ Last name ________
Questions: Call Bill at 744-8227
Bill also needs a few volunteers to help. Call him.
---
Posted April 20, 2011 at 12:00 AM
Colonel Michael G. Morrow, Fort Lee's garrison commander, will be the special guest speaker for the June 2nd meeting of the Brandermill Region Men's Club (BRMC) at the Brandermill Church. He will address the transformation that has occurred on post and what is planned for the future. All BRMC programs provide for questions from those attending, and will be welcomed.