Archives for March 2010
Posted March 26, 2010 at 7:06 PM
No, its not April Fools Day, its the first Thursday of the month and time for the BRANDERMILL REGION MEN'S CLUB to meet at the Brandermill Church for another great program.
Refreshments and fellowship at 9:15 a.m.
The meeting starts at 10:00 a.m. sharp.
This month we welcome as our special guest speaker Dr. Glenn Winters, Virginia Opera Company's community outreach musical director, who will introduce us to the "unknown Gershwin," composer of the opera "Porgy and Bess." Our BRMC special trip to the May 1st performance at the Carpenter Theatre is fully booked, but the performances on April 30 and May 2 may have seats available.
Following the meeting, the "Join the Guys for Lunch" bunch -- everyone is encouraged to participate -- will revisit the popular The Grill at Waterford in the shopping center at Genito and Charter Colony. Look for the displays of Photographs by our member Horst Arfert and the art work by Helen Sanders, wife of our member Earl.
---
Posted March 25, 2010 at 11:18 PM
Brandermill Region Men's Club's 2008 Charity Concert: Cavalcade of Music, "Classical Strings to Big Band"
Click on each photo to enlarge.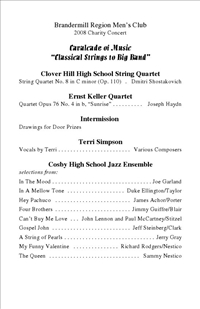 BRMC President Fred Carter
introduces the program

Clover Hill High School string quartet performs

Ernst Keller Quartet performs Haydn's "Sunrise"

The audience enjoys our "Classical Strings"

Andrew Certner, Kathryn Hall,
Lenore Wagner Smith, and Ernst Keller take their bows

Vocalist Terri Simpson entertains with smooth, romantic songs

The Cosby HS Jazz Ensemble play music of the 40s

Saxaphone solos are featured
several times

Trumpet solos highlight several of Cosby's musical numbers

Saxaphones take the lead in musical favorites

The band's drummer is a crowd pleaser

Cosby's band takes a well-deserved bow
---
Posted March 9, 2010 at 1:40 PM


4 p.m., Sunday, March 21, 2010 Brandermill Church
4500 Millridge Parkway, Midlothian, VA
$15 per person
100% of proceeds go to Chesterfield County Charities
For tickets and concert information: Call 608-1261

Opening the program will be, the Clover Hill High Stringed Quartet , performing a Shastakovich piece. This talented group will be followed by our own equally skilled Ernst Keller Quartet, performing as half of another stringed quartet. Two Quartets opening one great show!!

Following intermission, the Twenty-piece Jazz Ensemble from Cosby High will perform, including accompaniment for Terri Simpson, and continue with a great selection of 40's Big Band music, showcasing the wonderful talents and skills of this youthful group.

Also appearing in the program will be winner of the prestigious Theresa Pollack Award as the best vocalist in Richmond, Terri Murphy Simpson. Terry currently performs weekly in the Shockoe Bottom restaurant, Bottoms Up, with the Butterbean Quartet.

Tickets are available for Box Office pick-up at the Church the day of the show by pre-payment check, payable to BRMC Charity Fund, at $15 per person, mailed to:

David Wilson, 3117 Three Bridges Road, Midlothian, VA 23112
Pre-paid ticket orders must be received by Friday, March 19