All News Archives
Posted March 6, 2012 at 7:19 PM
We have a great show lined up for the Cavalcade of Music on Sunday, April 29. With the early notification that we sent out, some may be tempted to put it aside for later response, and then forget. Why not do it now, and assure your support for this, our only charity fund-raiser of each year. Better still -- sell some tickets to your friends and/or extended family. They will be glad you thought of them.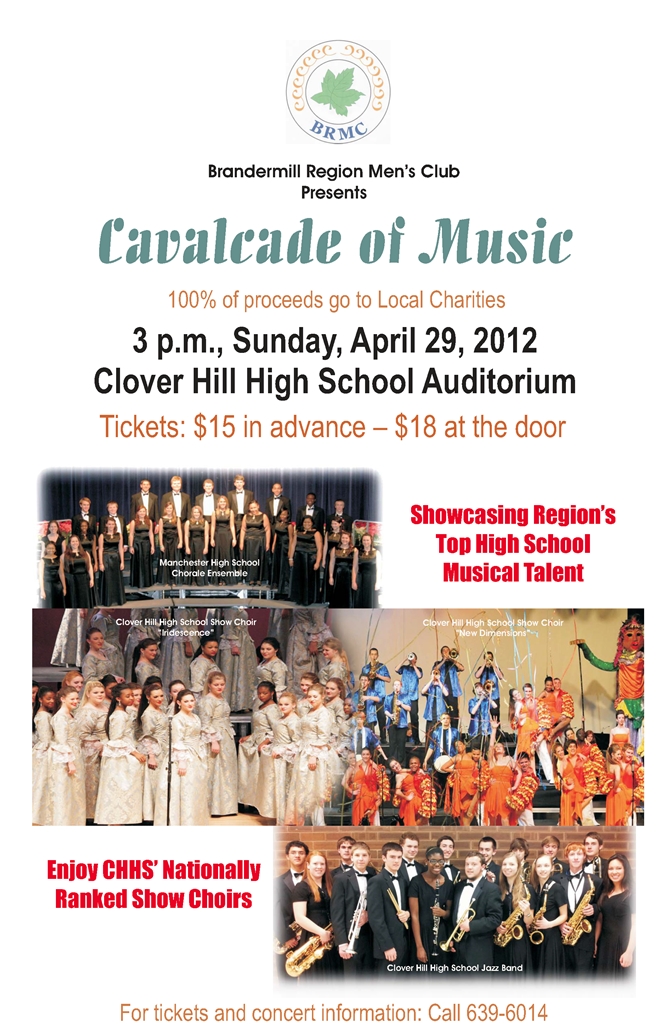 ---
Posted February 1, 2013 at 12:28 AM
Join us for a Very Special Valentine's Day event on Sunday, February 17, 2013 !!
Enjoy a special evening of Fine Dining at the elegant Brandermill Woods Club House. The evening begins at 6:00 with a welcome Open Bar Cocktail Reception featuring a full selection of spirits and wine, with butler served Mini Quiche and bar snacks. Dinner begins at 7:00 p.m.
Please note that the cost per person listed following the choices of entree is all inclusive -- the reception, the dinner and unlimited beverages throughout the evening == including beer, wines and spirits (scotch, vodka, gin, rum, etc.) soft drinks, the entertainment, door prizes, taxes and the gratuity.
Dinner begins with: Baby Spinach Salad with glazed pecans & Manderins pre-set Raspberry Vinaigrette)
Your entree and dessert choices are:
Surf & Turf Lobster Tail & 4oz. Filet Mignon -- $66 per person
6oz Petite Filet Mignon Bearnaise -- $56 per person
Baked Salmon Filet & mustard/dill sauce -- $52 per person
Chicken "Oscars" -- $50 per person
Each entree is served with rice pilaf and California blend vegetables.
For dessert: your choice of Carrot Cake or German Chocolate Cake.
Following dinner, we visualize being in a "supper club" and welcome popular & talented vocalist -- Joe LaLuna -- offering our favorite selections -- the soothing strains of some oldies -- and some not so old.
Note that tables will accommodate 6 or 8 persons. Therefore, we suggest that when making your reservations please indicate with whom you wish to be seated, otherwise we will randomly assign seating.
Reservations will be accepted on a first paid basis and must include each person's selection of entree and dessert. Reservations must be received before Monday February 11.
We also encourage you to invite relatives, friends and neighbors to join us. Simply add their names, entree & dessert selections to the reservation form.
Complete and mail the reservation form, with your check(s) payable to BRMC, to
Bill LaLonde 14207 Chimney House Road, Midlothian, VA 23112
------------- Print & cut -- or provide info on separate sheet ------------
Name ____________________ Entree _____________ Dessert ____________ $ _________
Check(s) Total: $ _________
---
Posted March 16, 2012 at 10:29 AM
Monica Hughes. the Executive Director of the
Chesterfield Lifelong Learning Institute (LLI)
, will be the speaker for the May meeting of BRMC.
LLI, is now in its ninth year of meeting that thirst for knowledge and the challenges of seniors through daytime college level courses, lectures, events and other activities. LLI is about intellectual curiosity and the joy of learning for learning's sake: all goals of seniors not ready for an inactive and stoic retirement and who are looking forward to a future with challenges and opportunities for personal growth.
---
Posted January 14, 2013 at 10:13 AM
The BRMC has arranged a special guided tour of the National Air & Space Museum's
Steven F. Udvar-Hazy Center
, adjacent to Washington Dulles International Airport.
The date is Wednesday, March 20, 2013.
This popular event will fill up quickly, so early reservations are encouraged.
Paid reservervations must be received by March 1, 2013.
Contact Bal Dighe for details: 804-639-6960.
---
Posted March 15, 2013 at 1:34 PM
BRMC Social Committee Vice-chair Bal Dighe has done it again !!
He has arranged a wonderful day-tour of two National Monuments, with transportation by luxury motorcoach at just $35.00 per person, including taxes and gratuity,--- provided we have a minimum of 40 persons, and we can accommodate up to 56.
---
The monuments are....
Appomattox Courthouse National Park, which is comprised of many historical structures plus several reconstructed buildings. The village itself is the site of the surrender of General Robert E. Lee to General Ulysses S. Grant, thus ending the four year civil war. We will see documents and the many artifacts of that tragic event, including the pencil used by General Lee for additions and corrections to the treaty.
The D-Day Memorial in Bedford, Virginia. That town suffered the highest per-capita casualties in the nation. The National D-Day memorial honors the allied forces that fought in the invasion of Normandy France on June 6, 1944. The English garden, a haunting tableau of the invasion, and the victory plaza pay homage to the brave forces and sacrifices of our fallen heroes.
---
Note that the entrance fee for Appomattox is just $3 or is free for those who hold Golden Passport (senior citizen) passes. Since many of our members are holders of this passport, they are entitled free entry with two more persons.
Similarly, the D-Day Memorial waives the small entry fee for Veterans. Thus, the prudent option is to have each person handle their own entry.
The details are:
Date: Thursday, April 18, 2013
Leave Market Square @ 9:30 a.m.
Arrive Appomattox Courthouse @ 11:00 a.m.
Leave Appomattox @1:00 p.m.
Lunch stop @1:15 at The Porterhouse Restaurant in Lynchburg, were each person can order his/her own meal from the menu and pay accordingly.
Depart Lynchburg @2:00 p.m.
Arrive and tour the D-Day Memorial @ 2:30.
Depart Bedford @ 4:30 p.m.
Arrive Market Square @ 6:30 p.m.
Paid reservations are required for this special offering, and must be received before Monday, April 1st. If we do not have the minimum 40 paid reservations BEFORE that date, the tour will need to be cancelled and your checks returned/cancelled.
Send your checks, payable to BRMC, at $35. per person, to:

BAL DIGHE
6112 Duck Cove Road Midlothian, VA 23112

Questions? Please call Bal at 804.639.6960
---
Posted December 6, 2021 at 9:26 AM
Our speaker was Bernadette Gilmore from the Chesterfield County Agency on Aging. She discussed available resources for disability services and mobility services along with the volunteer groups associated with these services.
---
Posted August 30, 2021 at 3:34 PM
We are pleased to have as our speaker Lee Ware, representative to the House of Delegates for District 65. He will update the Club on recent activities of the Virginia legislature.
---
Posted August 30, 2021 at 2:11 PM
Our featured speaker was Dr. Robin Brown, an audiologist, talking about hearing problems with a focus on issues for older folks.
---
Posted June 4, 2021 at 12:01 PM
Our June 3, 2021 Zoom meeting was presented by our former president, Commander Fred Carter USN. He presented "Sailor's Sea Stories" about his experiences over his illustrious career in the U.S Navy that includes his first tour of duty aboard the Zellars to his tour as commanding officer of the nuclear attack submarine USS Haddo.
---
Posted May 10, 2021 at 7:48 AM
Our May 6, 2021 Zoom meeting (includes audio) was presented by one of our former presidents, Dr. Robert E. Lee. His topic was "Global Agricultural/Food Industry Challenge – New Frontiers to 2050 – Will we Eat/ What will we Eat".