All News Archives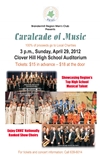 Posted March 6, 2012 at 7:19 PM
We have a great show lined up for the Cavalcade of Music on Sunday, April 29. With the early notification that we sent out, some may be tempted to put it aside for later response, and then forget. Why not do it now, and assure your support for this, our only charity fund-raiser of each year. Better still -- sell some tickets to your friends and/or extended family. They will be glad you thought of them.
(more...)
---
Posted February 1, 2013 at 12:28 AM
Join us for a Very Special Valentine's Day event on Sunday, February 17, 2013!!
Enjoy a special evening of Fine Dining at the elegant Brandermill Woods Club House. The evening begins at 6:00 with a welcome Open Bar Cocktail Reception featuring a full selection of spirits and wine, with butler served Mini Quiche and bar snacks. Dinner begins at 7:00 p.m.
(more...)
---
Posted March 16, 2012 at 10:29 AM
Monica Hughes. the Executive Director of the
Chesterfield Lifelong Learning Institute (LLI)
, will be the speaker for the May meeting of BRMC.
(more...)
---
Posted January 14, 2013 at 10:13 AM
The BRMC has arranged a special guided tour of the National Air & Space Museum's Steven F. Udvar-Hazy Center, adjacent to Washington Dulles International Airport. The date is Wednesday, March 20, 2013.
(more...)
---
Posted March 15, 2013 at 1:34 PM
BRMC Social Committee Vice-chair Bal Dighe has done it again!.He has arranged a wonderful day-tour of two National Monuments, with transportation by luxury motorcoach at just $35.00 per person, including taxes and gratuity,--- provided we have a minimum of 40 persons, and we can accommodate up to 56.
(more...)
---
Posted August 28, 2022 at 10:11 PM
Matt Harris, Chesterfield Deputy County Administrator, will present the Chesterfield $540M bond issue that will be on the ballot for the November 8 election.
---
Posted August 28, 2022 at 10:11 PM
Chessa Walker, Chesterfield Department of Transportation (CDOT), will cover plans for Route 360, traffic changes, and the impact of right-turn only on Harbour Pointe residents.
---
Posted August 28, 2022 at 10:11 PM
Dave Sirius, Chesterfield Utilities Department, will speak on Swift Creek Reservoir hydrilla management, water quality measurements and enforcement, and other drinking water issues.
---
Posted February 7, 2022 at 8:37 PM
The Brandermill Region Men's Club held our monthly membership meeting in person at the Harbour Pointe Club House on Thursday February 3. Our speaker was Brett Burkhart, the developer of The Lake and Waterpark project across from Clover Hill High School on Genito Road. The development will include 250,000-square-feet complex for offices, retail and entertainment venues, a hotel, a surf and waterskiing park (6-acres), an outdoor amphitheater for concerts and other events (200+ events annually), and approximately 1,150 apartments and townhomes.
(more...)
---
Posted December 6, 2021 at 9:26 AM
Our speaker was Bernadette Gilmore from the Chesterfield County Agency on Aging. She discussed available resources for disability services and mobility services along with the volunteer groups associated with these services.
(more...)